Inert atmosphere Cluster Tool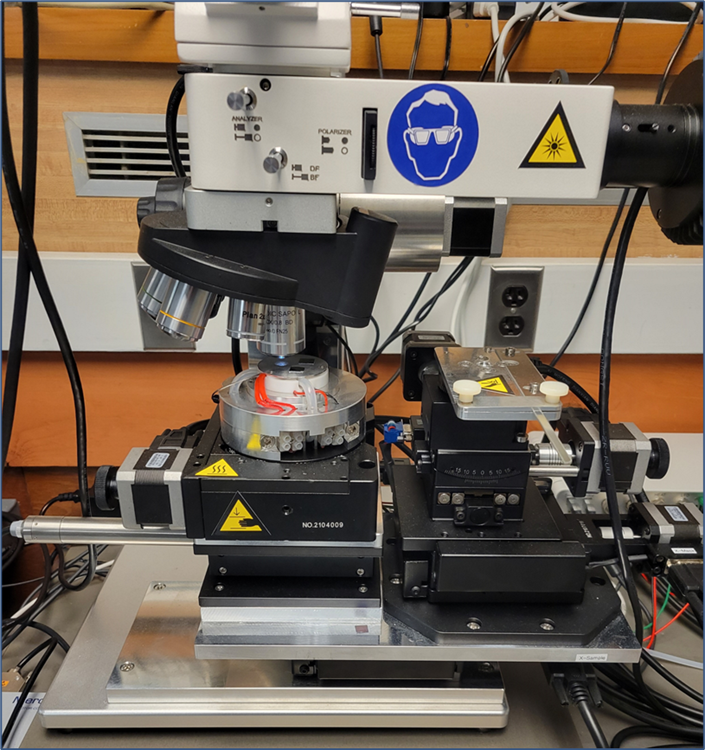 Glovebox transfer and Characterization
Inert atmosphere Cluster Tool with the 2D transfer stage pictured above, more components to arrive soon
Description of Instrument(s): 
The 2DCC Inert Atmosphere Cluster Tool enables the fabrication and characterization of air-sensitive van der Waals heterostructures and devices. It consists of three major pieces of instrumentation housed in two conjoined, argon gas-filled gloveboxes. The tool features a state-of-the-art transfer stage from HQ Graphene, an atomic force microscope from Asylum Research (MFP-3D Origin+) and a customized two-glovebox system from M. Braun, Inc, with integrated physical vapor deposition capabilities.
Capabilities: 
The two-box cluster (to be installed):
Custom stands and mechanical connections to minimize vibration;
Integrated vacuum chamber and e-beam evaporation with 4 sources
2D transfer stage:
Fully motorized, compute-controlled transfer;
9 Degrees of Freedom: sample stage x/y/z/rotate, mask x/y/rotate/tilt, focus;
Precise translational motion control < 1µm;
Rotational motion with 0.01° precision;
6 Objectives with darkfield mode: 2X, 10X, 20X, 40X, 50X, 100X (3mm working distance);
PID-controlled heating and cooling of the sample stage, with a maximum stage temperature of 200℃.
Atomic Force Microscopy (to be installed):
Accommodate large samples, up to 80mm diameter and up to 10mm thick.
ORCA cantilever holder for conductive AFM measurements
Customized for operations inside a glovebox
Current Process Capabilities:
Exfoliation and precise transfer stacking of van der Waals heterostructures (x, y, z, twist) in the ambient environment
To Arrive Soon
Processing and transfer of air-sensitive van der Waals materials and thin films inside the glovebox
AFM characterization (topography, KPFM, EFM, conductive AFM)
In-situ physical vapor deposition of metals (Au, Pt, Ti) and oxides (Al2O3)
Technical Contacts: 
2D Layered Film Transfer
This video outlines a 2D layered film transfer process developed by Penn State graduate student Fu Zhang. The details of this process and the development of this process were published in the journal Nanotechnology (Fu Zhang et al 2018 Nanotechnology 29 025602).