Submitting Your Proposal 
Please carefully review the 2DCC 

scope

 and facility 

capabilities

 (which will evolve over time as new equipment comes on-line)

You are encouraged to contact an advocate from the 

user support group

 to discuss your ideas before

preparing your proposal.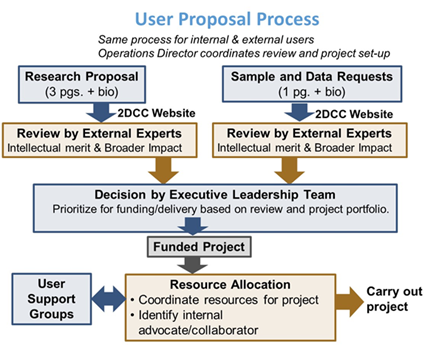 The 2DCC accepts two types of proposals: Research Project and Sample and Data Requests:
Both proposals types are reviewed by an external user proposal review committee which makes recommendations to the 2DCC executive leadership team.

For proposal guidelines and further details of the review process, refer to the

Proposal Process

documentation.
Research projects: These proposals describe synthetic, characterization and/or theory efforts that are performed either by 2DCC staff (off-site user) or by users who come to the facility (on-site user).
Requests for standard samples or data requests:  Sample requests for standard samples that are routinely synthesized at the 2DCC or data request proposals for access to growth recipes, characterization and/or simulation data, etc. resulting from 2DCC in-house research efforts.
                Current Available Thin-Film Sample            Currently Available Bulk Samples 
Proposals of all types carry no user fees for academic and government users, so long as the work is non-proprietary (i.e., published in the scientific literature and not kept confidential for commercial reasons). Industrial users are charged a fee based on cost-recovery (e.g., materials and supplies, personnel time, equipment maintenance, etc).
If you have further questions about the 2DCC scope or capabilities, we encourage you to contact a member of a user support group prior to submitting your proposal. Training users in synthesis is part of our mission, and a "sliding scale" of on-site oversight and mentoring is integrated into the user experience.
As a community of 2D synthesis researchers, our shared goal in accepting user proposals is to generate a broad range of the most scientifically compelling proposals, encouraging and facilitating high-quality submissions from a diverse user base.