Next application deadline: July 31, 2023 for visits starting January 2024
What is the 2DCC RSVP?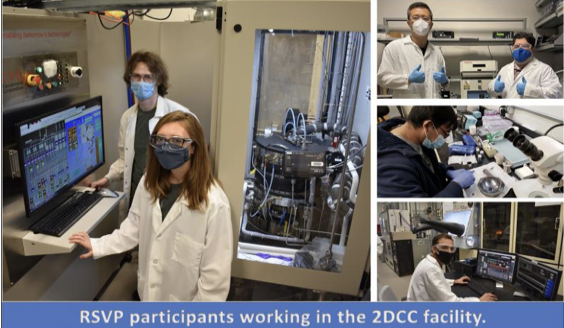 The 2-Dimensional Crystal Consortium Resident Scholar Visitor Program (2DCC RSVP) is a training and professional development opportunity for visiting graduate students and early career researchers (e.g. postdoctoral scholars and junior faculty) to learn on-site at the 2DCC facility for extended periods. The program is designed to support the development of in-depth skills and expertise in epitaxial and/or bulk growth of 2D crystals, tool development, in situ characterization and/or theory and simulation to supplement learning in their current research projects.  Proficiency in these areas requires extended hands-on training and guidance than is possible through short stays or visits. 2DCC RSVP Fellows will train on projects relevant to their own research at the Penn State 2DCC-MIP facility that are focused on advancing the synthesis of 2D materials, which could include utilizing the 2DCC's custom deposition tools with in-situ and real time characterization, facilities for bulk growth of chalcogenide single crystals, and/or the unique capabilities at the facility to simulate growth kinetics through first principles and reactive potential approach. Proposals generated by applicants should describe their interests in training at the 2DCC facility in the context of their current research and/or professional development for future career plans.
The duration of the 2DCC RSVP Fellowship will typically be 2 to 6 months, as set by the selection committee based on the proposed training plan, the fellow's academic schedule, and the availability of 2DCC personnel and facility equipment.
Eligibility Requirements
Be a U.S. citizen, or possess a valid U.S. student or work visa.

Be enrolled as a graduate student or hold a current postdoctoral or other early career position at an accredited U.S. institution of higher education.
How to Apply?
All components must be submitted via the 2DCC RSVP online application system. For full consideration applications must be received in the system by midnight proposer's local time on July 31, 2023 in order for the application to be considered for visits starting January 2024. 
This Application contains 2 components:
Webform of contact info/demographics

One PDF file (CV, letter of support & training proposal)
Financial Support
The 2DCC supports one round trip to and from the facility, subsistence and housing during the training, support for the experimental or computational costs during training, and in some cases a training stipend (depending on specific eligibility and availability of funds).
For a complete description of the 2DCC facilities/capabilities, please visit the user facilities page.  
Questions – Contact, Dr. Ron Redwing (rdr10@psu.edu)