Penn State University Park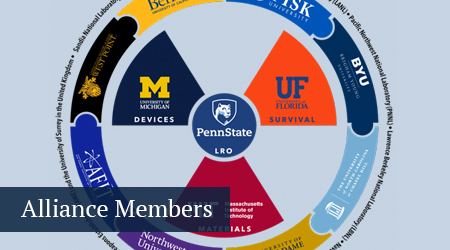 The Interaction of Ionizing Radiation with Matter (IIRM) University Research Alliance (URA), collectively known as the IIRM-URA, seeks to collaboratively advance the understanding of radiation-material interactions with the goal of developing and integrating technology to improve nuclear survivability and response.
Funded by the Department of Defense's Defense Threat Reduction Agency (DTRA), the IIRM-URA is led by Douglas E. Wolfe at Penn State and is dedicated towards conducting basic research in the following:
Mission
The Ionizing Radiation with Matter University Research Alliance (IIRM-URA) aims to identify, adapt, and develop revolutionary scientific breakthroughs to reduce, eliminate, or counter nuclear and radiological threats. Comprised of 12 universities and 10 institutions, national laboratories, and industry partners, the collaboration will research relevant physics, device and system designs, and modelling approaches to understanding, identify, and control ionizing interactions of radiation with materials.
---
Goals
The IIRM-URA has identified the following specific goals to pursue:
Investigate interaction of ionizing radiation with matter in order to identify advanced material systems, devices and integration, and survivability response to detect or defeat weapons of mass destruction (WMD).
Assist in training the next generation workforce and student pipeline against WMD.
Advance fundamental knowledge of materials interactions with ionizing radiation.
Promote interdisciplinary research and solutions in support of WMD threat reduction.
Facilitate implementation and research transition that enables new capabilities for the warfighter to maintain a competitive advantage.
Perform transformative research focused on understanding interactions of ionizing radiation with cross-cutting modeling and simulation.
Visit the website: iirm.psu.edu